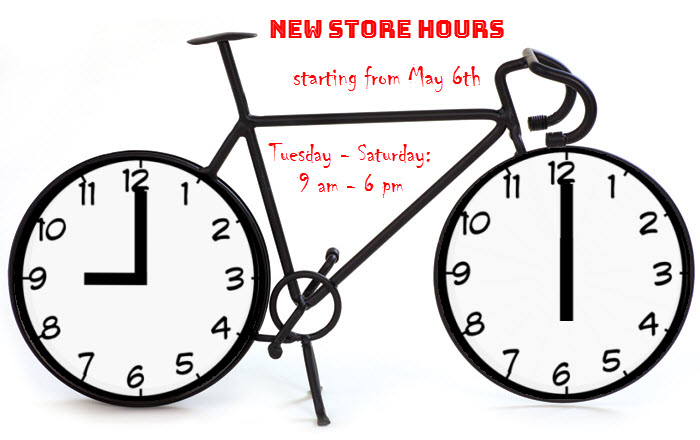 NEW SHOP HOURS
Starting on Tuesday May 6th, the shop will be opening at 9am rather than 10am.
So, our new hours are 9am to 6pm, non-stop Tuesday through Saturday.

NEW SERVICES
Bring the Bike Switzerland to your company or place of work ! Learn more about on-site servicing for bicycle commuters here.
Bike Fittings by Physical Therapist. That's right…get to the bottom of your bike/body problems with a professional who will be working on a free-lance basis at the bike shop starting mid-may.
Click here for details.

NEW PROGRAMS AND OFFERS
New Riders Program: Do you have someone in your entourage who is intimidated and doesn't know how to get started with the sport. We'll hold their hand every step of the way. Here's how.
Family Offer: Planning on buying some bikes for the family ? See our offer for families here.
Bike Tours Across Switzerland: You know about our bike tours, but have you ever considered joining one ? Bring along someone and save money on one of our guided tours. Bring a small group and save even more. Details here.
CYCLOTOUR SIGN-UPS
Want to do the Cyclotour with the Bike Switzerland team ? We'll need your money (88 chF) by this Saturday. Please stop by the shop for that ASAP so that we can be assured your entry.
More information about the event here.
SPRING KICK-OFF PARTY
The Annual Spring Kick-off party for the club and shop clients will be held on May 25th from 4pm to 6:30 pm. For location and details, see here.