Bike Switzerland…on your Honeymoon !
Give yourself the best active honeymoon possible by cycling across Switzerland !
Not as hard as you imagine: with our "Lite Route", your honeymoon will be spent cycling on flat, romantic paths for 3 to 5 hours each day.
And if that's too much, consider using one of our electric bikes to go further and faster.
A Bike Switzerland Honeymoon includes…
Romantic accommodation in 3 & 4 star hotels.
Free Honeymoon upgrade in all hotels , (premium rooms)
All breakfasts
Fully equipped bicycle (bags, bottles, etc)
Luggage transfers from day to day
Cellphone navigation
Return train tickets to Geneva
Return of your bike to Geneva
Complete departure briefing and bicycle fitting in Geneva
Honeymoon arrival video , (We film and place immediately on-line so that you can send to friends and family back at home. )
10-day Lite Tour Honeymoon: 3,050 chf
9-day Challenge Tour Honeymoon: 2,950 chf
To qualify for a Bike Switzerland honeymoon, riders need to have been married no longer than one year before the tour's start date.

What we do:
Create a private webpage which showcases your 10-day honeymoon.
Send a link to your guests.
Your guests choose a day to "sponsor"The sponsors may be listed on the website, or chose to remain anonymous.
Sponsors may also choose to write a personal note which the honeymooners will open on each day of their tour. Fun!
(Honeymooners begin by making partial deposit on the trip which is reimbursed once all the days are sponsored)
Latest reviews of  Honeymoon Tour
---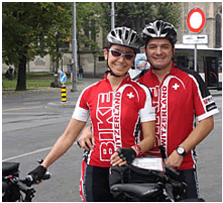 Dear Bike Switzerland,
"When we decided to do the independent tour for our honeymoon, we never imagined that the experience would be as perfect as it was: the cycling, the hotels, the food, the people, sights along the way ! Everything was logistically perfect. Thank you for giving us a dream honeymoon. "
JUAN MANUEL LOAIZA NARANJO, Bogota Colombia
---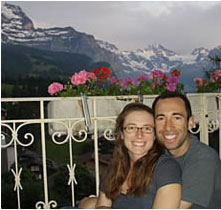 Dear Bike Switzerland,
"We thoroughly enjoyed our trip and have nothing but positive things to tell our friends and families of our adventures. We appreciate your professionalism and availability via cellphone . From the very beginning, we knew we were in good hands when you showed us everything we needed to know in a step-by-step fashion.
Our friends are very envious, hearing of our honeymoon cycling trip across such a beautiful country. And I will admit, the hybrid bikes were the best fit for the terrain we faced.
You have done an amazing job putting together a complex honeymoon trip that is easy to follow and enjoy. All of the hotels were gracious to have us, and we especially enjoyed the romantic honeymoon upgrades. "
Kathleen McKee, Goldsboro North Carolina
More reviews