Alan from Toronto did our Challenge Tour last year and he was back last month for another more challenging solo-trek across Switzerland doing our Jura Tour.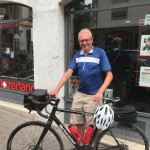 Having enjoyed the solo Challenge Tour so much last summer I wanted to try the Jura Tour, again solo, although I realized there would be a lot more climbing.  As it turned out, most of the major ascents were at 5/6%  grades which were manageable even over several kilometres.  Having paved surfaces and generally very little or no traffic made these climbs tolerable, and, of course, it was always enjoyable reaching the summit.  There was only one very steep and long hill (above Baulmes), where I had to get off my bike to walk up to the top.  But it was an experience I will not forget, and afterwards I was rewarded with a couple of nice long descents. 
I knew I could count on the Swiss National Cycling Route, No. 7 (Jura) to be well signposted.  It followed many minor roads and country laneways.  There was no cycling signage of any use on the French side, but again the route generally went along the minor roads and was easy to follow using the Swiss Mobility app with Bike Switzerland's tour route overlaid on the map.
As with the Challenge Tour, the riding went through many beautiful, pastoral landscapes, featuring cows, cowbells and limestone outcrops.  Many days finished with a stay in a charming hotel with an excellent restaurant which took up the early evening hours.  The best restaurant/hotels were La Truite, Le Bellevue, L'Auberge du Tuye, Le Lac Malbuisson and Le Pre Fillet.
Urban highlights were of course Basel with its 3-country walk along the Rhine River, and also La Chaux de Fonds with its fountain of spouting turtles, and Maison Blanche, the first work of famous 20th century architect Le Corbusier, which was open for tours by attentive and friendly staff or volunteers on the day I visited.  Worth the extra climb to get there.
Also as with the Challenge Tour, the bicycle was in top shape, and the courier service for the daily luggage delivery performed well.  I arrived at my destination before my bag arrived on only one occasion. 
The overnight stays were all appropriately distanced so that I would usually arrive at the destination in the late afternoon, having started cycling around 9 a.m. (the time by which the luggage has to be placed at reception for pick-up).
My limited French got an excellent work-out on this trip.  Unlike what usually happens in francophone tourist destinations, virtually no one in the Juras switched into English upon hearing my French.
It had been hot in Geneva but in the Juras it was very pleasant.  I had only one rainy half-day, part of which I spent on the covered patio of a burger/pizza place waiting for the rain to stop.  
Yes, I will be looking at doing the Alpine Tour next!
Alan – Toronto, Canada
Indy Jura Tour 2017
Indy Challenge Tour 2016